Church House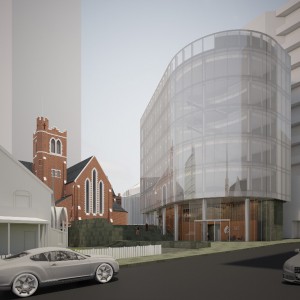 With RM Surveys appointed as Project Surveyors, PACT Construction has begun work on the $19 Million St George's Chambers project – a mixed-use development commissioned by the Anglican Diocese of Perth, on the site of the old Playhouse Theatre in Perth's CBD.
The new building will comprise a two-storey basement car park, ground floor lobby and café plus six floors of A-grade commercial space featuring offices and meeting rooms. The base of the new building will feature carved stone platforms, providing pedestrian connections through to the newly constructed Cathedral and Treasury precinct. A curved engineered façade is to wrap around two sides of the structure offering unimpeded views to the Cathedral and Stirling gardens.
The remainder of the building will provide A-grade office space fitted out to extremely high standards. Construction is expected to be completed in March 2016.