RM Surveys Participates in 2012 Variety WA Bash!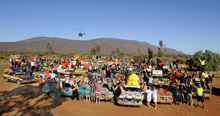 RM Surveys' director Geoff Robb participated in the 2012 Variety WA Bash, which raised a total of $1.6 million for sick & disadvantaged children in Australia.
More than 140 people and 40 Bash cars took part in the record breaking event, which kicked off on Friday 31 August 2012 in Albany.
For more information on the 2012 WA Variety Bash click here..