IN SLAB RISK MITIGATION: A CASE FOR 3D LASER SCANNING IN COMMERCIAL CONSTRUCTION
The construction industry is on the cusp of a digital revolution that will enable intelligent decisions driven by digital data.
Over the 25 years of servicing the construction industry, RM Surveys noticed that concrete slab deformation is common with little to no documentation. Concrete moves, and there is no point of truth to answer why. How can digital data help us to understand concrete better?
So we asked the question, "What data can we provide our clients to help mitigate risk due to structure deformation?"
Today, through the power of laser scanning, we can answer that question by providing continual documentation throughout the construction phase pre-pour, post pour, and post prop and tension. The result is documentation that can reduce builders and subcontractors exposure to variation costs and project delays. By combining this data with consultant data, such as design or structural engineering design, you can determine how the structural deformation occurred.
The power of integrating digital data is just beginning, and RM Surveys invite you to join us as we explore the spatial frontier.
IN SLAB RISK MITIGATION: A CASE FOR 3D LASER SCANNING IN COMMERCIAL CONSTRUCTION
Slab deformation causes non-compliant floor levels resulting in unexpected problems during fit-out and final form. Such cases can result in budget issues, delays and can lead to critical structural deformation issues that deem buildings unsafe.
There are several reasons why slab deformation can arise, but the documentation to understand why and mitigate the risk is incomplete or inaccurate. To address this problem, RM Surveys uses a four-stage process to reduce the risk for structural deformation, specifically slab issues.
Using 3D laser scanning RM Surveys document a slab pre-pour, post-pour and post prop and tension. The deliverable is a report showing the differential of levelness and flatness to design. Currently, structural documentation is generally only practised post-pour of a typical concrete pour. A surveyor would document the post concrete pour for Pour Compliance to confirm level and flatness. But we must ask, how much money could be saved and risk reduced if we started our projects with better and more accurate data?
The lack of continual documentation throughout the construction can leave builders and subcontractors exposed to:
Risk implications for variations to the design
Variation costs during fit-out and final form
Project delays
Client relationship breakdown
No documented evidence of structural deformation
When all four stages are laser scanned and documented, structural deformation risk can be mitigated, even prevented by having complete data from the start. The importance of this documentation is particularly evident for high rise buildings as decisions on whether engineering needs to be modified can be done at the time of the first slab.
Another benefit of having such data is for facility management when it comes to future developments and managing the lifecycle of the building. Whether upgrading an existing facility, altering its intended use, or simply maintaining awareness of its current state, accurate as-built models can be maintained for the lifetime of the facility.
Ultimately, using laser scanning makes facilities management easier – giving building owners a comprehensive view of their facility and empowering them with comprehensive data to make decisions.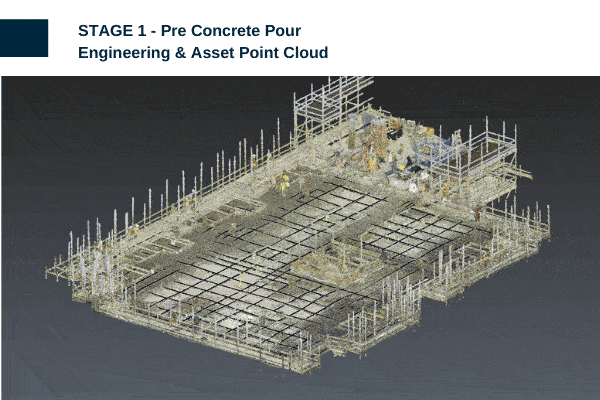 Contact us to find out more about RM Surveys digital data capabilities.